Archive for the 'Health and Healing' Category
Garlic and superstition have gone hand in hand for millennia. A tasty, natural curative –garlic's power as a magickal protective charm and as a potent remedy has remained strong from ancient times through to the present day.

Worried about vampires? No problem. Carry some garlic and decorate your doors and windows with it. The use of garlic to protect against these pop culture prevalent denizens of the night is perhaps the most ubiquitous use of the aromatic bulb known today.

But its usage as a form of apotropaic or warding magick is far more ancient. The ancient Egyptians would utilize it to protect the sanctity of contracts and oaths. Medieval miners would carry it down to the mines with them to ward against evil spirits like the invisible and mischevious German kobolds. The pungent odor and easily portable bulb and cloves of the garlic plant ( allium sativum) made and, indeed, still make it, an ideal charm against evil in all of its multiple forms. Its Sanskrit name Rasona or Lasuona actually means 'Slayer of Monsters.' But not all of the monsters it protected against were of the fiendish variety. More often then not, it was the monstrous interior medical ills that garlic was utilized to protect against.

The second century AD Roman physician Galen of Pergamon labeled garlic as a 'theriac' or antidote which eventually translated into its widespread usage in imperial Roman medicine as a universal panacea or curative. In Ayurvedic medicine, one of the earliest ongoing systems of homeopathic curatives, garlic was utilized as an aphrodisiac, stimulant, and charm against virulent diseases like smallpox. Indeed, the sulfur and selenium components within the garlic bulb which presumably originated as a defense mechanism against hungry predatory animals result in garlic's scientifically recognized properties as a valuable antiseptic, which does indeed aid in protecting against bacteria, inflammation, and viruses. Recent studies indicate that the consumption of garlic may help prevent against certain types of cancer. Garlic was recognized early on for its curative powers, but we are only just exploring the tip of the iceberg of what its wonderful biological magick can do for our own biological systems.

Biomagick aside, my particular favorite fact in the litany of garlic's history (some of which is included above and others of which you will encounter in Sacred Mists fabulous Herbalist Course ) relates to its ritual usage. Garlic was once the primary offering to the great Greek goddess of magick herself: the mighty Hekate. The third century BCE philosopher Theophrastus recorded in his botanical texts Enquiry into Plants and On the Causes of Plants how garlic would be offered at crossroads and in front of the three-faced statues dedicated to Hekate found at such places.
SO the next time you throw a bit of delicious garlic into your cooking, take a second to speculate about the long legacy of interaction between garlic and humankind. For at least five thousand years men and women have consumed this tasty plant and utilized it in their magico-medicine practices. It is a tradition of tastiness and superstition predating biological scientific fact, one which you are continuing by adding it into your daily diet.
I recently underwent the mild trauma of my first bee sting. According to medieval French superstition, this means a stranger or a guest is en route. According to various ancient Mediterranean and Eastern European rituals, I ought to keep the poor little bumblebee. As the first bee I've personally encountered this year, he will bring me prosperity for the coming spring.

Bees, and the honey they so cleverly create, are sublimely steeped in magick and sacred ritual. From the dawn of time to the present, throughout religious turmoil, changing geopolitical borders, steps forward and steps back in morality and human behavior, bees and honey have been a mainstay of human society. Perhaps even more so than our canine companions, bees are man's best friend (despite the occasional sting).

Though the relationship between man and bees is suspected to have begun earlier, the first appearance of bees in the archaeological record is in an Epipaleotlithic rock art depiction of a figure climbing a ladder to collect honey from a cluster of encircling bees in the Spider caves or Cuevas de la Araῆa, which date to approximately 8,000 years ago. So ancient is human involvement with bees, that the word for mead a( drink made from their honey), is so old that its base roots in proto-Indo European dialects affected its usage in a myriad of later tongues: from ancient Greek, to Sanskrit (where it is still used as madhu), to Chinese dialects and Old English, etc…The latter of which is where we get the current term of 'mead.'

As the only natural sweetener humans of the Old World encountered until the Age of Exploration (circa 14th century AD, less than 700 years ago), when they discovered the wonders of sugar cane; honey had an early significance among the foods of the forest and later, the town. Typically, that significance falls into the sacred category. Honey appears prominently in early mythology, both as a physical offering of the gods and as something consumed by them. In ancient Babylonia, vows were sworn to the god of honey. Protection spells against evil magick made to the sorcerer-gods Ishtar and Marduk were sealed with gifts of honey. The Greek god Zeus, patriarch of his pantheon, was raised on the honey of sacred bees kept in the Cypriot cave he was raised in. The later Norse gods drank only magickal mead in their mythical Halls, as did the glorious dead they invited to join them there. In the ancient RigVeda, honey and soma are said to drip from the sacred fig tree which stands at the center of the universe. In other words, honey permeates world mythology, coating it in delicious sticky sweetness.
Human use of honey for ritual purposes is also significantly prevalent: from ancient times up until the modern day. Ancient texts and epigraphic evidence describe honey as a frequent offering to a variety of deities and spirits. It was either left out in a cup before an altar, poured on the ground as a libation, or burned. The Iliad describes its use as a funerary gift for the fallen warrior Patroclus. The Odyssey features it in Circe and Odysseyus' necromantic ritual to ask advice of the spirit-seer Teiresias. The ancient Phoenicians would smear honey onto standing stones and burn it at their altars. The latter of which was later forboden by the Old Testament (Leviticus 2:11), indicating its former widespread use among the ancient Israelites and their attempt to cease such pagan rituals within their new, more monotheistic religion. The controversial use of honey within monotheistic rituals continued (almost begging the question ~ what is it about honey and bees that is so delightfully pagan the Church would consider it dangerous?), despite the initial covenant between God and Abraham featuring the promise of a land filled with milk and honey (Exodus 33:3). The Christian Synod of Auxere in 585 AD forbade the mixing of wine and honey (wine only!) for consecrated beverages. The Synod of 692 forbade the offering of milk and honey at saintly altars. The witch trials of the Burning Times occasionally centered around the magickal theft of honey by presumed witches who were charged both with the theft by demonic means and the use of the stolen honey for nefarious Sabbaths. Ironically, however, the art of beekeeping was most well developed in the Catholic monasteries of the early Medieval period.

Honey (and therefore bees) are particularly associated with happiness and sensuality of love and life. Honey was wildly popular in the ancient world as an aphrodisiac. The famous first doctor Hippocrates advocated the taking of milk and honey to induce love and ecstasy. The making and gifting of honeycakes, particularly in Eastern European traditions, was associated with rituals of courtship and romance. Conveniently, the use of honey, as advocated by the Kama Sutra, has resurfaced in the modern world; returning to its rightful place in erotic magicks. The prevalence of the term 'honeymoon' is a further continuing reflection of the associations between honey and the sacred act of sex and bond of marriage. With the exception of certain sub-Saharan tribes, honey has prevalently been considered a particularly suitable wedding gift and a particularly beneficial substance to be consumed at weddings, particularly by the bride and groom. The threshold of the honeymoon suite or first home of a couple is likewise best smeared with an offering of honey to encourage prosperity. Certain areas of Germany still perpetuate the ancient practice of decorating local beehives in honor of a wedding, so that the bees which created the honey for the wedding feast might also partake in the festivities.


On the flip side, honey has often been associated with death. The earlier discussed passages of the Iliad and Odyssey aptly reflect ancient usages of honey in death rituals: namely as offerings to the deceased and in death-involved magick. Funerary and spirit gifts were made of honey, logically, to literally sweeten the deal and the afterlife beyond. Honey was often used to bathe the dead prior to burning or burial. This is especially evident in ancient Egypt, where a ritual honey bath was a part of the expensive mummification process. The deceased are still offered a teaspoon of honey in some modern Hindu funerary rituals, often so that their language might be sweet and powerful in the next stage of existence.

The medicinal uses of honey, as a curative (i.e. to prevent death and discomfort, thereby increasing the likelihood of love and life ~ all of which it is associated with), are also noted in both ancient and modern sources. Its properties as an antiseptic for wounds made it a particularly powerful magickal curative in ancient poultices and medications, evidence for which is outlined from Egyptian magickal-medico texts onwards. The soothing nature of its consumption eases sore throats. Its quick metabolic dispersal rate makes it easy to digest and transfers a considerable amount of comparative energy to the consumer. Recent studies also indicate that consumption of local honey may ease certain allergies via an increased familiarity with the pollens used to create the honey.
Be it for medicinal or magickal purposes, honey is a potent ingredient. As one of the most natural and sacred of binding agents, it can be employed to increase the strength of any concoction. Its utility as a biological offering increases its power as an offering to the gods, and especially to localized house spirits. Spring offerings of honey are particularly effective, especially with regards to the latter creatures.

Bees, as the architects of honey and as creative industrial creatures in their own right, are also due considerable respect. Indeed, the bee, perhaps alone among insects, has been offered its own respected role within mankind's understanding of ecology. The bee's complex social formations and patterns of organization have long been lauded: from New Testament references to the honeycomb up through the social theorists of the late nineteenth and twentieth centuries. Though rarely revered as deities in their own right, the bee as a provider of sweet goods to humans has been recognized from the designation of the Lower Kingdom of Egypt as the Land of the Bees, to modern usage of the bees image on consumer goods (like the Honey Nut Cheerios Bumble Bee). Though typically adverse to insects, the bumble is one of the odd exemptions: perhaps simply because there is something innately magickal to them which resonates with the magickal within all of us.
Check out honey and bee -related products at the Sacred Mists Shoppe! Janet Farrar's Honey Bees Pendant is a personal favorite of mine!
Today's Tarot card-The Wheel of Fortune
Look at the imagery of this card.  I am using the Rider-Waite deck today, so I see an orange wheel with Hebrew and English letters on it.  The word "Taro" is spelled out. There are four "beings" surrounding the wheel at each of the four directions.  An angel, a dragon, a bull with wings, and a lion with wings.  Note that all four images here, all have wings.  There is also an image of a devil, a sphinx and a snake hugging this wheel.  Take notice of the fact that all four of the "guardians" are taking notes.
The main thing that comes to mind here, with The Wheel of Fortune, is CHANGE!  This can be a good thing or bad.  What I mean here is this:  If things are great for you now, make sure that that you prepare for anything possible.  Don't get too comfortable because you should be prepared for any issue that may come around.  Change is inevitable.  Life is cyclical and is always changing.  If things are a bit rough for you now, know that things will get better for you!  If you have a problem with change, then this card's lessons may be hard for you to swallow, but will happen non the less.  Remember, what goes around, comes around.  If you are prepared, then you should be able to meet all of life's changes and challenges. Read the rest of this entry »
Trees Purify the Mind I came across a quote that started me thinking, "Trees purify the air; they also purify the mind….if you want to save your world, you must save the trees"We all know that trees purify the air; the rain forests are the lungs of the earth.However, the thought that intrigued me was the idea that they purified the mind. How do they do this? What follows are just my thoughts.Bring into your mind an image of an ancient beech. How it stands tall and proud how it has been there for generations the things it has seen does this not lift your spirit?Brian Bates in his book Sacred Trees says "Trees bridge the gap between earth and air" Trees are a symbol of our reaching out to the Divine, rooted deep in the earth and yet reaching out to the heavens this is I believe how we should live our lives.Also for trees to purify the mind, we need to regain the awe and wonder that I think our ancestors had when they looked at a tree. The mystery they saw in the cycle of a tree the apparent death each autumn when the leaves withered and died only to return each spring. To them this must have appeared a miraculous thing. Indeed, it was the miracle of life.One way to let trees purify your mind is to walk among them (something I do not do nearly enough). Ruskin Bond said, "To return to my own trees, I went among them, acknowledging their presence with a touch of my hands against their trunks". Although I am not a newager when was the last time you hugged a tree?When was the last time you just sat with a tree, communed with, and let it impart its wisdom to you? By the way, I am asking these questions of myself as well.To look at a tree is to see the divine when you commune with a tree you are communing with the divine and with the whole of creation. Therefore, trees are sacred beings able to teach us if we are willing to learn.Trees provide us with all that we need our air, our homes, our fuel, and our books in an endless act of giving.However, this should not be a one-way transaction. We need to give in return, so, what can we do? Well one thing is plant more trees, either personally or by supporting organisations that do. Care for the ones we already have even if the only thing you do is clear the litter others have left.Another thing we can do is increase our knowledge of these great beings, I am the first to admit that my knowledge of trees and their lore is not good but I can learn. Learn which tree is which, learn the individual things each tree has to teach me, for they all have lessons to impart to us.Therefore, this is my goal to let the trees purify my mind and in return honour them.
Spiritual dance is often used to raise energy, heal the sick and connect with Deity.
The integration of movement and dance into spiritual practices and religious rituals is not a new concept. Since before recorded time, man has been using gestures and movements and dance, both choreographed and improvised, to raise energy, heal the sick, connect with Deity, and foster a sense of community connection. One useful purpose for sacred movement is as a tool to facilitate and enhance the achievement of the altered state known as "trance." Once again, modern man is not inventing this concept, but rather reviving it, for the "trance dance," like all other sacred movement, has its roots in antiquity. Many trance dance traditional rituals have survived intact and are still being used in religious ceremonies and healings to this day.
Sufis perform a trance dance called "whirling" (mostly associated with Dervishes of Turkey) as a part of a formal religious ceremony known as the Sema, which is performed in order to reach religious ecstasy and a connection to Deity.
The Anastenaria is a traditional celebration found in Northern Greece and Southern Bulgaria, in honor of Saint Constantine and Saint Helen. At the end of the celebration, participants carry icons of the Saints and dance around a large fire for hours, until they enter a trance and are called by the Saints to walk barefoot over the glowing-red coals, unharmed by the fire.
Zar Cults of the Middle East are groups with specific members who perform their healing trance dance in order to contact and communicate with the spirit(s) causing particular illnesses or afflictions, not to exorcise them, but rather to work out a mutually agreeable symbiotic accommodation or "living arrangement."
The Guedra, part of the culture of Morocco's Tuareg Berbers, or Blue People (the dye from their deep blue robes impregnates their skin), is a moving meditation performed as a ritual of blessing and celebration of life, usually performed by one or a few dancers, supported by a drummer, hand clappers, and chanters; all come together to build powerful energy and bring blessings, spiritual ecstasy and connection to Deity.
The pizzica is a folk dance from Italy that comes in three highly symbolic variations.
The pizzica is a folk dance from Italy that comes in three highly symbolic variations. In the first, the pizzica de core, a man and woman circle each other suggestively but are never allowed to actually touch. The second, the danza della scherma, is a mock sword battle performed by two men. The third dance, the pizzica tarantata, is a strange ritual with an almost primitive history, dating from a time in which women suffering from a variety of mental or emotional disorders of the sort that used to be labeled "hysteria" were believed to have been bitten by a poisonous spider. The Tarantella Dance music is probably the most recognized song of all the Italian folklore music.
Liturgical dance is a modern form of religious trance dance that is made a part of worship services, usually as an expression of prayer or worship through movement of the body. Liturgical dancing can be spontaneous or can be choreographed in advance in order to fit into the lyrics of a particular hymn or song, or the focus of a religious service. It is relatively new in the West, but its roots go back to accounts of religious dance in the Bible's Old Testament.
But not all trance dancing is related to healing or banishing or exorcism. Anyone who has spent some time on a dance floor at a modern night club can attest to the power of dancing and the "group consciousness" that can be created through rhythm, music, lights and movement. Electronic trance dance and all of its alternate forms (such as Rave, Euro, Techno and House) are characterized by music with rhythms that fall within the 130 to 155 beats per minute range, a tempo that, combined with a dancing style of repetitive movement, is perfect for inducing a trance or altered state of consciousness.
Modern trance dancing uses rhythmic sounds, sights such as pulsing lights, and repetitive movements as activators to influence the brain and bring brain wave vibrations into alignment with the rhythm, and thus to the trance level. This use of outside influences such as rhythm and repetitive body movements to help achieve a trance state is known as "entrainment." The more senses that are involved in this process, the easier it is to attain and maintain a trance state. Transformative breathing, pulsing lights or flames, and incense, when combined with music and rhythms and repetitive body movements, can allow the dancer to slip into a powerful trance.
Want to give it a try?
The wonderful thing about trance dancing is that anyone can do it. You don't need to be a certain age, you don't need any dance training or ability, and you can even do it from a chair if you are unable to stand. What you look like when you dance is not even an issue; the most important part is what you feel while you are dancing. Actually, too much worry about your outer form will distract you from the trance.
Begin swaying back and forth with the rhythm of the music.
Trance dance is essentially a meditation, with movement as the tool used to bring your awareness to a place where meditation, trance and communion with Deity can happen. By allowing your body to freely express the rhythms and movements created by the catalyst of sound, you are brought to a meditative state and enter into a deeper mythic reality.
Repetitive movements can act as a focus for your mind similar to that of a mantra or chant; when repeated long enough the movement will fade from your awareness and shift your attention from your physical surroundings to a state of dreaming. While any repeated motion can be used to attain and maintain a trance; the ideal movement would be one that is strenuous enough to get the endorphin effect of exercise, but simple enough to be easily repeated without the worry of getting it wrong.
To set up a trance dance session, you will need to find a block of time when you won't be disturbed, at least 45 minutes. You will need to arrange your furniture so you won't injure yourself, and you will need some music, any kind of music as long as it truly inspires you. You might want to also dim the lights or burn some pleasing incense, but be careful of any open flames.
Begin by following the rhythm with your breathing; then consciously relax and invite the music into your body. Begin swaying back and forth with the rhythm. As you put your body into motion, be aware of what feels good in a sensual or physical way; don't worry about what you look like, for no one is watching. Allow your mind's chattering and preoccupation with your physical world to fade, along with awareness of conscious movement.
Your aim is to reach a purity of experience that is just the rhythm and the motion and you and the sound; this is the moment of your entry into a trance state. Try not to stop dancing; continue moving without conscious choice until you feel the trance is completed. Slowly begin to decrease your movements and lessen their intensity until you are once again back to swaying to the music. Then bring even that to an end and stand still; experience the absence of motion with as much sensual awareness as you experienced motion.
Through trance dance our physical bodies and our physical world "disappear," and we become more like spirit, and less attached to life's ordinary difficulties, making it possible at these moments to let these problems go, and sometimes to become aware of viable solutions to these problems. Trance dancing is also a wonderful way to cleanse the cobwebs from your mind and rejuvenate your body.
Sources:
Wikipedia – Trance
Sacred Mists Sacred Movement Extension Class
Reiki is considered a holistic therapy which helps bring awareness, balance, and healing on all levels.
"Reiki" is the name of a spiritual practice from Japan that offers techniques for relaxation, stress reduction and healing.  The name itself is a compound word that joins "rei," which can be translated to mean "spirit," "divine," and "etheric body," and "ki," which can be translated to mean "breath," energy," "life force," "emotion" and "intention."  Some direct Japanese translations for Reiki are "feeling or atmosphere of mystery," "an ethereal atmosphere (that prevails in a sacred place)," and "to feel or sense a spiritual or divine presence."  In English, Reiki is used both as a noun, representing the spiritual life force energy in the form of ki and the therapeutic methods related to its application, and as a verb, representing the actual use of the therapy and application of the ki into and onto the recipient.
Reiki is considered a holistic therapy which helps to bring awareness, balance and healing on physical, mental, emotional and spiritual levels of existence.  Reiki is offered through a technique commonly called "palm healing" or "hands-on healing," where the ki is transferred through the palms of the practitioner and into the body and personal energy field of the recipient.  Reiki operates through the belief that our emotions, our mental state and our level of spiritual fulfillment are directly connected to and interact with our physical body and its health and vitality, and thus healing and balance brought to one level of existence will transfer to the other three in order to help heal the entire "self."
It is a simple method to learn, and much of the techniques and focuses are not taught in the usual manner, but rather are transferred during a Reiki class through an "attunement" given by a Reiki Master/Teacher which allows the student to tap into and access the unlimited supply of ki in order to improve health and enhance the quality of life.  The ability to become a Reiki practitioner is not dependent on intellectual capacity or spiritual development, and is available without restrictions of age or background.
Generally, Reiki is taught in three basic levels or degrees, although there are many equally effective variations to these levels; each level requires at least one attunement.  The first level, sometimes called "Shoden" (Japanese for "elementary/entry teachings"), teaches the basic theories and procedures, and hand placements thought to be the most conductive to offering ki in a whole body treatment.  The second level, sometimes called "Okuden" (Japanese for "inner teachings"), teaches the symbols that act as catalysts and enhance the strength and distance over which Reiki can be applied.  This level allows the practitioner to offer "distance healing," the ability to apply Reiki without being physically present with the recipient.  The third level, sometimes called "Shinpiden" (Japanese for "mystery teachings"), brings the practitioner to the Reiki Master/Teacher level.  Once reaching this level, the practitioner has the knowledge and experience to teach the three levels, as well as the ability to attune students to Reiki energy.
During a typical full-body treatment, which can last for a half hour to an hour or longer, the recipient is seated or laying down as the practitioner places his or her hands on or near the recipient in various hand positions.  Recipients and practitioners alike often feel warmth, cold, tingling and/or pressure in the area being treated, whether or not the practitioner is touching the physical body of the recipient.  A state of deep relaxation and a general feeling of well-being are the most common effects noted immediately after a treatment, although emotional releases can also occur.  Other positive effects can be felt over the following hours and days as the treatment stimulates and encourages the body's natural healing processes.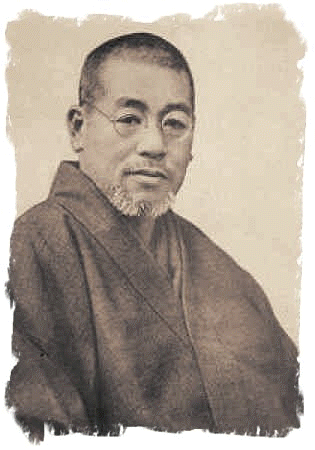 I went up the mountain to become a part of heaven, and the heaven became a part of me - Dr. Mikao Usui.
Reiki was developed by Mikao Usui in 1922, while he was performing a 21 day retreat on Mount Kurami which involved fasting, mediation and prayer.  Usui received the information and methods of use that we call Reiki, as well as a series of sigils or symbols to be used by Reiki practitioners as keywords or sacred catalysts, through mystical revelations that came to him toward the end of his retreat.
In the process of documenting the symbols and instructions he received into a system that could be used both as a healing method and as a way to teach the system to others, Usui also incorporated a set of ethical affirmations based on teachings of Buddhism and the writings of Emperor Meiji, now commonly known as the Reiki Principles, which encourage a release of anger and worry, and a cultivation of gratitude, kindness and honesty.
After Usui's death, his student, Chujiro Hayashi, continued passing on Reiki teachings.  Hayashi also simplified the original teaching and application techniques and added a focus on physical healing.  Hayashi trained Hawayo Takata, who is accredited with bringing Reiki outside of Japan and to the United States.  When she died in 1980, Takata had trained many Reiki Master/Teachers.
There has always been debate as far as scientific proof of the effectiveness of Reiki treatments; however, recently scientific and medical experts have made amazing strides in their ability to create physical measuring devices that are sensitive enough to measure non-physical techniques such as Reiki.  Through documenting and measuring the electro-magnetic field of the human body, researchers have found that both the entire body and each individual physical organ pulses or vibrates with a particular resonance; these vibrations or auras have been show to change if illness occurs.  These same researchers have been able to measure the palms of Reiki practitioners, which have been shown to emit electro-magnetic energy during Reiki treatments that pulses within the healthy range.  The healthy energy being emitted by the Reiki practitioner has been shown to act as a catalyst to bring the resonance or vibrations of the recipient's aura back into a healthy range, thus promoting healing.  While still being debated by some, more and more scientists and conventional medical experts are recommending the inclusion of Reiki treatments within an all-encompassing health promoting regime.
Although it is mainly spiritual in nature, Reiki is not a religion; it has no dogma, no required adherence to a particular spiritual tradition or path, and is not dependent on any other beliefs.  Reiki does encourage living within ethical ideals which are nearly universal across all cultures.  The techniques for relaxation, balancing and healing associated with Reiki are not meant to replace the advice of a medical professional, but rather are meant to be used in conjunction with the advice of health care professionals who specialize in treating the physical, mental and emotional bodies.
References:
Sacred Mists Sacred Usui Reiki Training Course
Wikipedia
The Molecules of Emotion by Candace Pert, Ph.D
The Intention Experiment by Lynne McTaggart