Archive for the 'Reiki' Category
Reiki is considered a holistic therapy which helps bring awareness, balance, and healing on all levels.
"Reiki" is the name of a spiritual practice from Japan that offers techniques for relaxation, stress reduction and healing.  The name itself is a compound word that joins "rei," which can be translated to mean "spirit," "divine," and "etheric body," and "ki," which can be translated to mean "breath," energy," "life force," "emotion" and "intention."  Some direct Japanese translations for Reiki are "feeling or atmosphere of mystery," "an ethereal atmosphere (that prevails in a sacred place)," and "to feel or sense a spiritual or divine presence."  In English, Reiki is used both as a noun, representing the spiritual life force energy in the form of ki and the therapeutic methods related to its application, and as a verb, representing the actual use of the therapy and application of the ki into and onto the recipient.
Reiki is considered a holistic therapy which helps to bring awareness, balance and healing on physical, mental, emotional and spiritual levels of existence.  Reiki is offered through a technique commonly called "palm healing" or "hands-on healing," where the ki is transferred through the palms of the practitioner and into the body and personal energy field of the recipient.  Reiki operates through the belief that our emotions, our mental state and our level of spiritual fulfillment are directly connected to and interact with our physical body and its health and vitality, and thus healing and balance brought to one level of existence will transfer to the other three in order to help heal the entire "self."
It is a simple method to learn, and much of the techniques and focuses are not taught in the usual manner, but rather are transferred during a Reiki class through an "attunement" given by a Reiki Master/Teacher which allows the student to tap into and access the unlimited supply of ki in order to improve health and enhance the quality of life.  The ability to become a Reiki practitioner is not dependent on intellectual capacity or spiritual development, and is available without restrictions of age or background.
Generally, Reiki is taught in three basic levels or degrees, although there are many equally effective variations to these levels; each level requires at least one attunement.  The first level, sometimes called "Shoden" (Japanese for "elementary/entry teachings"), teaches the basic theories and procedures, and hand placements thought to be the most conductive to offering ki in a whole body treatment.  The second level, sometimes called "Okuden" (Japanese for "inner teachings"), teaches the symbols that act as catalysts and enhance the strength and distance over which Reiki can be applied.  This level allows the practitioner to offer "distance healing," the ability to apply Reiki without being physically present with the recipient.  The third level, sometimes called "Shinpiden" (Japanese for "mystery teachings"), brings the practitioner to the Reiki Master/Teacher level.  Once reaching this level, the practitioner has the knowledge and experience to teach the three levels, as well as the ability to attune students to Reiki energy.
During a typical full-body treatment, which can last for a half hour to an hour or longer, the recipient is seated or laying down as the practitioner places his or her hands on or near the recipient in various hand positions.  Recipients and practitioners alike often feel warmth, cold, tingling and/or pressure in the area being treated, whether or not the practitioner is touching the physical body of the recipient.  A state of deep relaxation and a general feeling of well-being are the most common effects noted immediately after a treatment, although emotional releases can also occur.  Other positive effects can be felt over the following hours and days as the treatment stimulates and encourages the body's natural healing processes.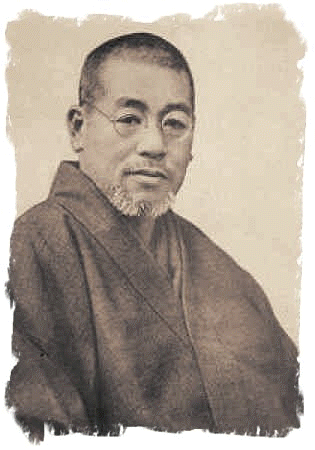 I went up the mountain to become a part of heaven, and the heaven became a part of me - Dr. Mikao Usui.
Reiki was developed by Mikao Usui in 1922, while he was performing a 21 day retreat on Mount Kurami which involved fasting, mediation and prayer.  Usui received the information and methods of use that we call Reiki, as well as a series of sigils or symbols to be used by Reiki practitioners as keywords or sacred catalysts, through mystical revelations that came to him toward the end of his retreat.
In the process of documenting the symbols and instructions he received into a system that could be used both as a healing method and as a way to teach the system to others, Usui also incorporated a set of ethical affirmations based on teachings of Buddhism and the writings of Emperor Meiji, now commonly known as the Reiki Principles, which encourage a release of anger and worry, and a cultivation of gratitude, kindness and honesty.
After Usui's death, his student, Chujiro Hayashi, continued passing on Reiki teachings.  Hayashi also simplified the original teaching and application techniques and added a focus on physical healing.  Hayashi trained Hawayo Takata, who is accredited with bringing Reiki outside of Japan and to the United States.  When she died in 1980, Takata had trained many Reiki Master/Teachers.
There has always been debate as far as scientific proof of the effectiveness of Reiki treatments; however, recently scientific and medical experts have made amazing strides in their ability to create physical measuring devices that are sensitive enough to measure non-physical techniques such as Reiki.  Through documenting and measuring the electro-magnetic field of the human body, researchers have found that both the entire body and each individual physical organ pulses or vibrates with a particular resonance; these vibrations or auras have been show to change if illness occurs.  These same researchers have been able to measure the palms of Reiki practitioners, which have been shown to emit electro-magnetic energy during Reiki treatments that pulses within the healthy range.  The healthy energy being emitted by the Reiki practitioner has been shown to act as a catalyst to bring the resonance or vibrations of the recipient's aura back into a healthy range, thus promoting healing.  While still being debated by some, more and more scientists and conventional medical experts are recommending the inclusion of Reiki treatments within an all-encompassing health promoting regime.
Although it is mainly spiritual in nature, Reiki is not a religion; it has no dogma, no required adherence to a particular spiritual tradition or path, and is not dependent on any other beliefs.  Reiki does encourage living within ethical ideals which are nearly universal across all cultures.  The techniques for relaxation, balancing and healing associated with Reiki are not meant to replace the advice of a medical professional, but rather are meant to be used in conjunction with the advice of health care professionals who specialize in treating the physical, mental and emotional bodies.
References:
Sacred Mists Sacred Usui Reiki Training Course
Wikipedia
The Molecules of Emotion by Candace Pert, Ph.D
The Intention Experiment by Lynne McTaggart