Wiccans of the Celtic Trad have a strong affinity towards Nature, the Elements, Healing, and the Fae. Image copyright Montréal Celtic Festival Foundation
Within Wicca, the Celtic Tradition is a facet of this pagan religion that honors the Celtic/Druidic pantheon of deities and the ancient Celts' way of interacting with their world on a physical, magickal, and spiritual level. Wiccans of the Celtic Trad have a strong affinity towards Nature, the Elements, Healing, and the Fae. Today we will be taking a brief glimpse at the history of the Celts and their religion, a look at four prominent deities, and some specifics regarding Celtic magick as it relates to the Celtic calendar, the Ogham alphabet, sacred tree lore, and animal magick.
To understand the Celtic Tradition we must first understand and acknowledge its roots. While today most people think of Ireland when they think of Celts, the Celts actually were originally spread out over a large part of Europe in addition to the British Isles. They occupied vast areas of western and central Europe during the last half of the first millennium BC. Although the early Celts were comprised of a number of different races and tribes, they were all linked by common origins and language, common religious traditions, and a close similarity of laws.
Our knowledge of the religion and mythologies of the Celtic people comes from three
different areas in Europe. From Gaul, which is modern day France, Britain (most specifically Wales), and Ireland. The Celts themselves did not commit their traditions to writings, but handed them down orally. Thus our knowledge of the Celts is dependent largely on fragmentary texts transcribed during the fourteenth and fifteenth centuries by Christian monks, which provide us with ancient legends and heroic tales, but not many hard facts. Archaeological evidence has provided us with clues as well, however, so we are able to piece together a fairly accurate picture of the Celtic world. It appears that the Celts of Ireland maintained their cultural integrity until close to 500 AD, and it is there that the pagan Celtic mythology has been best preserved. For this reason, what follows primarily focuses on Irish Celtic lore, with a smattering, here and there, of Welsh.
An Archdruid in his Judicial Habit from Costume of the Original Inhabitants of the British Isles (1815) by Samuel Rush Meyrick and Charles Hamilton Smith.
Trying to piece together the origins and details of the Celtic religion that the Wiccan Celtic Tradition is based on is no easy feat. As mentioned earlier, the Druids did not keep written records, and what information we have is pieced together and transcribed by Christian monks and colored, undoubtedly, but their viewpoints. However, we do have details of some rituals and festivals, as well as lore regarding the important Irish pantheon of the Tuatha de Danaan.
The Tuatha de Danaan was an Irish pantheon of various gods and goddesses, both specialized to specific crafts, and generalized (like the paternal Dagda). Some of these gods correspond to the continental Celtic ones, some don't, and some Celtic gods have no counterpart in Ireland. It has been suggested that the Tuatha de Danaan may actually be an artificial composite of deities stitched together by later storytellers. However, the story of the Tuatha de Danaan is an interesting tale, regardless of its origins, and many Tuatha de Danaan deities are called upon today by Celtic Wiccans.
In brief, the Tuatha de Danaan, who originated from Greece, were a highly skilled band of faery-folk, with great knowledge and skill in the arts of magick, music, poetry, and weaponry. They came to Ireland from four cities situated on the corners of the wind, Findias (South), Gorias (East), Murias (West) and Falias (North). The Tuatha de Danaan quickly conquered the Fir Bolg, who had colonized Ireland under a treaty with the Fomorians. Soon after, the Tuatha King, Lugh, defeated Balor -the Fomorian's greatest warrior, and the Fomorians were driven from the island.
Each city held a master of wisdom who gave a treasure (or Hallow) to ensure the Tuatha De Danaan flourished. Uscias gifted the sword, Esras gifted a spear, Semias gifted the cauldron and Morfessa gifted a stone, each representing the cities respectively. The Danaan ruled Ireland for a hundred years, when, on the First of May, the Milesians attacked the island. Despite the great magick and prowess of the Tuatha, the Milesians triumphed. One of the Danaan's great gods, The Dagda, led them underground and found retreats for them in hollow hills encompassed by hidden walls, to live undisturbed by mortals.
Present-day Celtic pagans have brought this ancient Irish pantheon back to prominence and now once again, requests for aid and guidance are being asked of such deities as Brigid, Dana, Oghma, and Lugh, just to name a few. The enduring success of this group of deities is due, in part, to the richness of this pantheon andthese goddesses and gods give the Celtic Wiccan a wonderful foundation to base their faith upon.
Brigid. Celtic Mother Goddess of Inspiration and Healing.
The Celts honored a wealth of deities. For the most part, Ireland, Wales and Gaul worshiped different localized deities, but some gods were known across all the pantheons, even if their names differed slightly from country to country. Here we will be focusing on two prominent female deities (
Brigid
and
Rhiannon
) and two prominent male deities (The Dagda and
Cernunnos
).
Brigid is probably the most famous of the Irish deities, as her worship endured into Christian times. Even to this day she is worshiped as her eternal flame has been re-lit at her convent in Kildare. In earliest times, she was a member of the Tuatha de Danann (the daughter of the Dagda and Boann and the wife of Bress). Later, she was made a saint in the Catholic pantheon, and earned the nickname "Mary of the Gael". Even within the Christian pantheon, however, Brigid kept most of her pagan attributes, chiefly her association with fire.
Today we know Brigid best as the goddess we honor during the Celtic festival of Imbolc, celebrating the birth of spring. In addition to the importance Brigid holds for us during Imbolc, she is also believed to aid healing and fertility, as well as help assist women in labor. She is the Goddess of poetry, feminine crafts, the hearth, martial arts, healing and inspiration.
In today's magick and ritual, Brigid can be called upon to aid you in virtually any endeavor you wish to undertake. She may be called upon for assistance in fire magick, crafting, inspiration, animal magick, fertility, healing and childbirth. Brigid is truly a powerful and prominent goddess.
Goddess Rhiannon by Briar.
Rhiannon is a Welsh goddess. Her original name is thought to be Rigatona (Gaulish), meaning "great queen", which indicates that she once held a much higher status in the Celtic pantheon than she enjoys today. Rhiannon is a potent symbol of fertility, yet she is also an Otherworld and death Goddess, a bringer of dreams, and a moon deity who is symbolized by a white horse. Her father was Heveydd the Old, and she was married to both Pwyll and Manann. The story of her marriage to Pwyll, and the subsequent accusation of the murder of her child, is well documented and most people are familiar with Rhiannon from this tale.
In her guise as a death Goddess, Rhiannon could sing sweetly enough to lure all those in hearing to their deaths, and therefore she may be related to Germanic stories of lake and river faeries who sing seductively to lure sailors and fishermen to their doom. Her white horse images also link her to Epona, and many scholars feel they are one and the same, or at least are derived from the same archetypal roots.
In today's magick and ritual, Rhiannon can be called upon to aid you in overcoming enemies, exercising patience, working magick, moon rituals, and enhancing dream work. My personal affinity to this goddess is strong, which turns out not to be too surprising, as though my journey over the years I found that my love of horses, moonstones, and dream work all correspond to her. I have talked to other witches who also are drawn to her, and am reassured that Rhiannon is enjoying a resurgence in importance to the Celtic pagan.
Dagda possessed one of the four treasures of the Tuatha de Danann, a vessel of endless bounty 'from which none returned unfulfilled'. This is a picture of a sculpture in Tralee Town Park of the vessel.
Dagda, the Good God, is the Irish Lord of the Land and the husband of Boann, the goddess of the river Boyne. Druids see him as a God of wisdom with extreme power, abundance and the ability to restore life, a belief sacred to the Celts. Portrayed as ancient man with hair of gray, he is grounded and simple in every way. He possesses a cauldron known as "the Undry", which came from Murias, one of the Tuatha de Danann's four mythical cities. This cauldron gave food to all, according to the individual's merits. No one ever left it unsatisfied.
As Lord of the Land, he was a valiant defender of it, and performed great deeds in the battle between his family, the Tuatha de Danann, and the Fomors. In peace-time the Dagda played his living harp, which has two names – "Oak of the Two Cries", and "Hand of Fourfold Music". As he played upon it, the music causes the seasons to change – spring to summer, summer to autumn, autumn to winter, and winter again to spring. The Dagda's final resting place is said to be a small barrow near the river Boyne, known as the Tomb of the Dagda, which has never been excavated.
In today's magick and ritual, you can call on Dagda's energies for almost any purpose you might need. He may be called upon for wisdom, animal magick, warrior skills, fertility, protection, assist in faery contact, elemental magick, or to increase mental prowess. Like Brigid, he is an extremely powerful and prominent deity.
Cernunnos was known to all Celtic areas in one form or another. He was called The Horned God; God of Nature; and the Great Father. The Druids knew him as Hu Gadarn, the Horned God of Fertility. He is usually portrayed sitting in a lotus position with horns or antlers on his head, long curling hair, a beard, naked except for a neck torque, and sometimes holding a spear and shield. His symbols were the stag, ram, bull, and horned serpent. He represented virility, fertility, animals, physical love, Nature, woodlands, reincarnation, crossroads, wealth, commerce, and warriors. Born on Alban Arthuan (Yule) he is often seen holding or wearing a golden torc signifying his connection as a solar deity and the wealth he may share with others.
Call upon Cernunnos for aid in fertility, magick and animals.
In today's magick and ritual, you can call upon Cernunnos for aid in fertility, magick and animals. Cernunnos is perhaps the most prominent and well-known of all Celtic deities, and many pagans of all paths honor him as the god that shares life's journey with the Triple Goddess.
Wiccans following the Celtic Tradition usually employ various aspects of Celtic lore when creating and performing their spells and rituals that goes beyond simply calling on the various Celtic deities. Some aspects include following the Celtic Calendar, using the Celtic Ogham alphabet in divination or writing spells, utilizing specific sacred trees for spells and healing, and calling on totemic animals for aid and guidance.
The Celts based their calendar on the cycles of the moon instead of the sun. The Celtic year consisted of 13 months, 12 of which were roughly the same as our modern months, and one extra three day 'make up' month leading into the new year. Each month was governed by a moon, and had a sacred Ogham tree associated with it.
The Celtic Calendar included two primary fire festivals; Samhain (the beginning of winter,) and Beltane (the beginning of summer,) marking the movement from the dark into the light time of the year. Two other seasonal fire festivals were also celebrated: Imbolc (February 1), and Lughnasadh (August 1). Dates and seasonal associations noted here are that of the Northern hemisphere. For those who reside in the Southern hemisphere, the exact opposite dates and seasonal associations apply.
The onset of each season was observed at the Albans (Solstices and Equinoxes,) although the central point of each season was celebrated and recognized by a Fire Festival. These four Albans were Alban Arthuan (winter solstice or Yule), Alban Eiler (vernal equinox or Ostara), Alban Heruin (summer solstice or Litha), and Alban Elved (autumnal equinox or Mabon).
This Wheel of the Year is widely used among Traditions and pagans worldwide; not just Celtic Wiccans. This celebration of the turning of the seasons is an important part of how we view the world and is a cornerstone for our faith.
Each letter of the Ogham alphabet has the name of a tree or other plant, and each of these trees had a meaning in the Celtic tradition. Image from Nigel Pennicks Magical Alphabets.
Ogham is a form of writing originally used by the Celtic people of the British Isles prior to the introduction of the Roman alphabet and Christianity. Each letter of the Ogham alphabet has the name of a tree or other plant, and each of these trees had a meaning in the Celtic religion.
The alphabet consists of twenty letters. Each letter consists of one to five strokes extending from or crossing a horizontal line. Ancient Ogham inscriptions are generally found cut into the edge of hewn stone, with the edge representing the horizontal line. When the edge is actually horizontal, the letters read from left to right. Vertical edges
were usually written from top to bottom, and in the case of a three-edge structure, such as a dolmen arch, the writing began at the lower left, ran up the left side, across the top, and down the right side.
Today, modern Celtic witches use Ogham for divination and spell work. For divination, the letters can either be carved on sticks and cast, or painted on cards and read like tarot. In other uses, the letters can be carved into candles to assist in spells or used to write out requests that are presented to the gods during rituals.
The culture of the ancient Celts was influenced by a great unity with nature, which we continue today. Reverence is given to all aspects of nature, but perhaps nothing was as sacred to the ancient Celts as the tree. The Druids actually created a calendar from the trees to personify the spirit of the Esbat, and today many people wonder why the tree played such a significant role in the Celtic life. Perhaps one reason is so many cultures modeled the universe and spiritual progression after a "Tree of Life" or a "World Tree". Trees were a physical representation of unity with all things because of their visible upper parts which reached into the heavens, and the unseen bottom parts, or roots, which reached far into the ground. These bottom parts were virtually identical to the upper parts and perhaps reflected to many the ancient adage "As above, So below". Trees physically unite the heaven and earth making the Earth Goddess and the Sky God one, united two halves of the whole and making them a powerful source of creative magick
Today the counting of the Celtic tree calendar begins with the full moon nearest Yule.
Once this is pinpointed, count off the thirteen moons of the lunar year and mark them
with their Tree. The Trees' order is as follows: Birch, Rowan, Ash, Alder, Willow, Hawthorn, Oak, Holly, Hazel, Vine, Ivy, Reed and Elder. Each Tree has its own power, polarity, and magickal significance which we can call upon to strengthen our spells. The Trees also can be used for herbal magick spells, as various parts of these Trees have healing properties. Trees can be an invaluable aid in many of our magickal endeavors, and should be honored with the same respect given them by our Celtic ancestors.
Everywhere one looks in the ancient Celtic myths there are animals. They are the allies of heroes, the helpers of those who travel in search of wisdom, and the companions of shamans and witches. Animal symbolism found in Celtic myths include boars, birds, serpents, fish, horse and cattle, just to name a few. Boars symbolize courage and strong warriors. Fish, especially salmon, are associated with knowledge and secrets. Snakes and dragons are portents of trouble, strife and infertility. Birds also may presage bad luck or bloodshed. Horse and cattle represent fertility, as do many occurrences of animals in Celtic legend.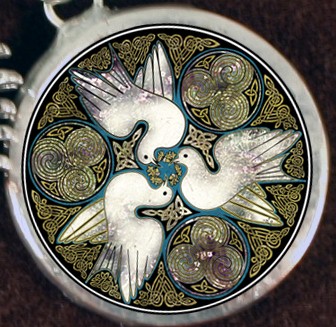 Animals hold a wealth of knowledge and wisdom. Celtic Doves image by Jen Delyth.
These legends have helped shape how we, today, relate to these animals in our own mediations and magick. Many following the Celtic path have strong relationships with their animal familiars, both physical and astral, and feel comfortable calling upon the strengths of other animals that are not their familiars. Animals hold a wealth of
knowledge and wisdom (as the ancient Celts well knew) and following the Celtic path allows us to reap the benefits of these close ties with our animal brethren.
As you can see, there is an incredible amount of knowledge a Wiccan of the Celtic Tradition should learn in order to honor their chosen Trad properly. Entire books have been written on Celtic lore and magick alone, and this essay has only been able to touch the tip of the iceberg. However, it is important to remember that following a Celtic Path requires not only knowledge of deities, plants, trees, animals, seasons, rituals, healing, history, etc., but also the appropriate attitude of reverence and celebration of spirit that ties us with Nature and our past. Celtic Wiccans should have both a strong sense of personal responsibility and a code of personal and social ethics that binds us all "in perfect love and perfect trust".
References:
Conway, D.J. Celtic Magic. St. Paul, MN: Llewellyn Publications, 1990
Conway, D.J. By Oak, Ash, & Thorn – Modern Celtic Shamanism. St. Paul, MN:
Llewellyn Publications, 1995
Cotterell, Arthur and Storm, Rachel. The Ultimate Encyclopedia of Mythology. New
York; Hermes House, 1999
Hutton, Ronald. The Pagan Religions of the Ancient British Isles – Their Nature and
Legacy. Cambridge, Massachusetts: Blackwell Publishers, 1991
McCoy, Edain. Celtic Myth & Magic. St. Paul, MN: Llewellyn Publications, 1995
Matthews, John. Celtic Totem Animals. London, England: Red Wheel, 2002.
8 Responses to "The Celtic Tradition of Witches and Wiccans"